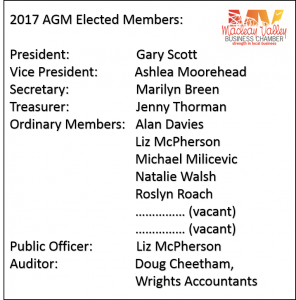 The Macleay Valley Business Chamber Annual General Meeting held on Thursday 28th September welcomed some new faces to the Executive Committee.
Seven of the returning positions welcomed Michael Milicevic and Jenny Thorman to the Board.
The Chamber President, Gary Scott, thanked the retiring members; Liz Campbell who has been a key driver of Chamber for more than 10 years and was instrumental in reviving the Chamber, highlighting her efforts and guidance is appreciated, Greg Hawken who has been a long term member and contrinutor to the Chamber Board, Danielle Cooney who will remain involved with our Awards Committee but is stepping down to take on Chairperson of Women's Network. Acknowledgement of the good work of Belinda Fowler in building up the markets was highlighted as an important element of the Chambers success.
View 2016-17 Annual Report
The AGM was followed by the Chamber Dinner meeting with two inspiring guests Dr Bruno Parolin and Dave Pearson:
Dr Bruno Parolin, International transport expert
Dr Parolin joins us for an updated assessment on the economic impacts of the Pacific Highway Bypass four years on from the diversion of traffic from Kempsey based on a recent independent research study commissioned by Kempsey Shire Council.
Dave Pearson, President of the Bite Club
On March 23, 2011, Dave Pearson was taking an early morning surf at Cowdy Head when he was attacked by a 3 metre bull shark. Dave found other shark survivors from around the world and formed a group called the Bite Club where victims can come together to share their experiences.