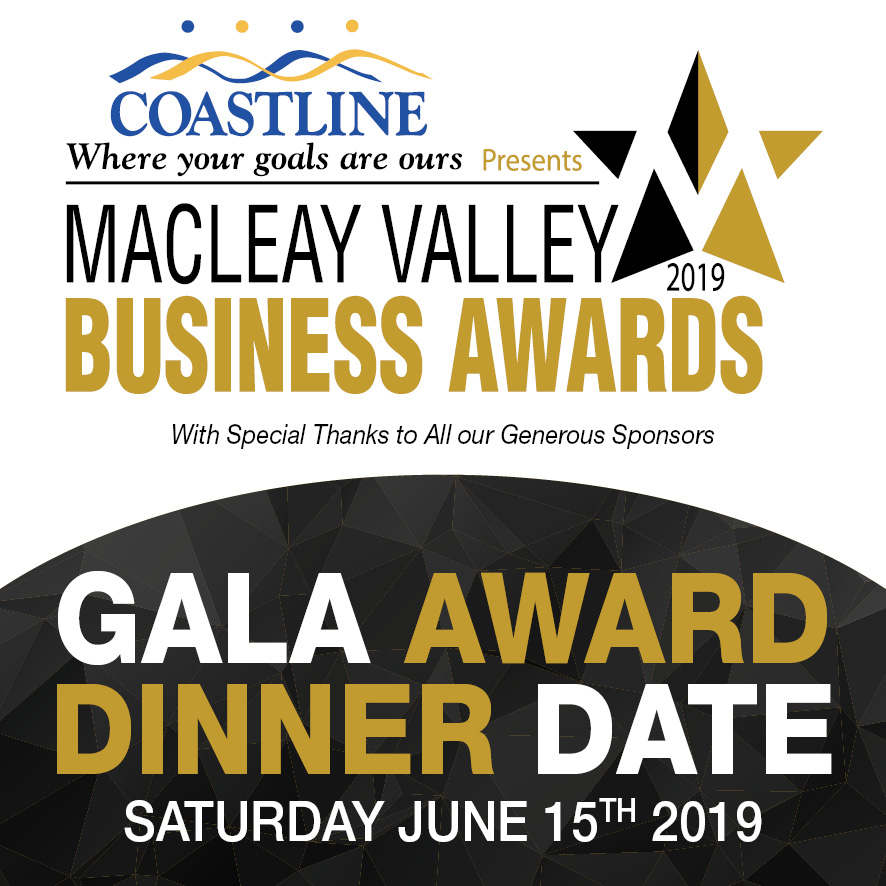 Thank you to the wonderful Local Businesses that have taken the time to enter into the Macleay Valley Business Awards 2019, which is proudly presented by Coastline Credit Union.
The Macleay Valley Business Chamber are proud of the hard work of our business community and excited to be celebrating local business throught he Awards.
We enjoyed a fabulous night at the Awards Gala Dinner held at the South West Rocks Country Club.
Congratulations to all of the entrants for sharing your business journey.
Entrants and recipients for each Award category are listed below.
Excellence in Health, Beauty and Wellbeing
WINNER: Saltwater Hair Styles
HIGHLY COMMENDED: Rocks Beauty Therapy
Choa Bella Hair
Crescent Head Beauty and the Beach
Kirstie's Skinsational
Mirror Mirror Hair Lounge
Rocks Beauty Therapy
Roxy's Boutique Studio
Saltwater Hair Styles
Zen Chi Ryu Martial Arts and Fitness Centre
Excellence in Retail Services
WINNER: Central Kempsey IGA
HIGHLY COMMENDED: Mahalo Interiors
Cellarbrations West Kempsey
Central Kempsey IGA
Macleay Valley Rural Supplies
Mahalo Interiors
Seed + Salt Photography
Sweet Blossom Floral Design
Excellence in Trades and Industry
WINNER: Eversons Food Processors
HIGHLY COMMENDED: Hotondo Homes Kempsey
Eversons Food Processors
Hotondo Homes Kempsey
Macleay Air Pty Ltd
Patterson Glass Works
Richo's Lawn Mowing & Gardening
Valley Electrical Refrigeration & Air Conditioning
Excellence in Agriculture
WINNER: P & K Hand
HIGHLY COMMENDED: Blueberry Greens
Blueberry Greens
P & K Hand
Excellence in Professional Services
(more than 21 employees in the Macleay)
WINNER: Kempsey Shire Council
HIGHLY COMMENDED: Macleay Options Inc
Coastline Credit Union Ltd
Kempsey Shire Council
Macleay Options Inc
Real Futures Pty Ltd
Speediestaffsolutions
Excellence in Professional Services
(less than 20 employees in the Macleay)
WINNER: Coastal Wealth Directions
HIGHLY COMMENDED: Octec Limited
Chris's Entertainment
Coastal Wealth Directions
Dj Design Studio
Elders Real Estate South West Rocks
Key Employment
National Australia Bank
Octec Limited
Oxley Insurance Brokers
Regional Finance Solutions
Excellence in Tourism, Accommodation & Hospitality
WINNER: Slim Dusty Centre Pty Ltd
HIGHLY COMMENDED: South West Rocks Country Club
All Cleaning Services Kempsey-Macleay
Green Room Cafe
Hat Head Bowling & Recreation Club Limited
Historic Netherby House B&B Restaurant & Cafe
Kempsey Macleay RSL Club
Macleay Valley Community Art Gallery
Painted Blue Coffee Roasters Pty Ltd
Seabreeze Beach Hotel
Slim Dusty Centre Pty Ltd
South West Rocks Country Club
South West Rocks SUP
The Garden Bar & Kitchen
NSW BUSINESS CHAMBER ALIGNED AWARDS
Outstanding Employer of Choice
WINNER: Kempsey Shire Council
Kempsey Macleay RSL Club
Kempsey Shire Council
Macleay Options Inc
South West Rocks Country Club
Excellence in Micro Business
WINNER: Kirstie's Skinsational
All Cleaning Services Kempsey-Macleay
Coastal Wealth Directions
Mirror Mirror Hair Lounge
Kirstie's Skinsational
Excellence in Small Business
WINNER: Hat Head Bowling & Recreation Club Limited
Excellence in Business
WINNER: South West Rocks Country Club
Coastline Credit Union Ltd
Eversons Food Processors
Kempsey Macleay RSL Club
Macleay Options Inc
South West Rocks Country Club
Start Up Superstar
WINNER: Sweet Blossom Floral Design
Excellence in Social Enterprise
WINNER: Macleay Options Inc
Key Employment
Macleay Options Inc
Octec Limited Macleay
Excellence in Innovation
WINNER: Kempsey Macleay RSL Club
Kempsey Macleay RSL Club
Dj Design Studio
Valley Electrical, Refrigeration & Air Conditioning
Excellence in Sustainability
WINNER: Eversons Food Processors
Eversons Food Processors
Saltwater Hair Styles
Outstanding Young Employee
WINNER: Lachlan Townsend, Coastline Credit Union Ltd
Georgia Lyttle, Kirstie's Skinsational
Jessica Barr, Saltwater Hair Styles
Nina Allen, South West Rocks Country Club
Lachlan Townsend, Coastline Credit Union Ltd
Sam Stanfield, Seabreeze Beach Hotel
Sierra Sanders, Hotondo Homes Kempsey
Taylor Currie, Rocks Beauty Therapy
Outstanding Young Entrepreneur
WINNER: Lauren Reichel, Valley Electrical, Refrigeration & Air Conditioning
Lauren Reichel, Valley Electrical, Refrigeration & Air Conditioning
Sarah Ray, Rocks Beauty Therapy
Tim Wuth, South West Rocks SUP
Outstanding Business Leader
WINNER: Gavan Landini, Macleay Options Inc
Gavan Landini, Macleay Options Inc
Nathan King, Seabreeze Beach Hotel