UPDATE: TEMPORARY NEW SITE AT KEMPSEY SHOWGROUND!
Our new location is temporary until COVID restrictions ease and we are no longer required to control the number of people allowed in the market space, and we don't need to ensure that everyone registers their attendance.  In the interim, KEMPSEY SHOWGROUND is a great location with plenty of space for a great market and room for everyone to keep their distance.  We have a great team of volunteers from the Kempsey Macleay Dragon Boat Club taking care of the registrations as you enter the grounds, please drop a coin in their donation box and support this wonderful club!  Without their help we wouldn't be able to hold our market even in the new location!
KEMPSEY SHOWGROUND is located at 109 Sea Street, West Kempsey.  Entry to the market is via the lower Sea street gate.
We take great pride in our market: Hand Made | Home Grown | Vintage | Quality
We have an abundance of fresh produce, gourmet delights, delicious street food and the best coffee!  Loads of arts and crafts, and plenty of unique treasures.  You can kick back and relax in a safe and spacious environment and enjoy the live music too!
Stalls are well spaced for safe browsing, and each stall has sanitizer for your use on hand, as well as the Market Information Station.  Remember to BYO chair or picnic blanket so you can safely enjoy the sunshine and good vibes on the lawn by the food and music!
As much as we would love everyone to come to our market, please if you are feeling unwell stay at home and help keep our community safe.
Kind Regards
Belinda Fowler
KRM Coordinator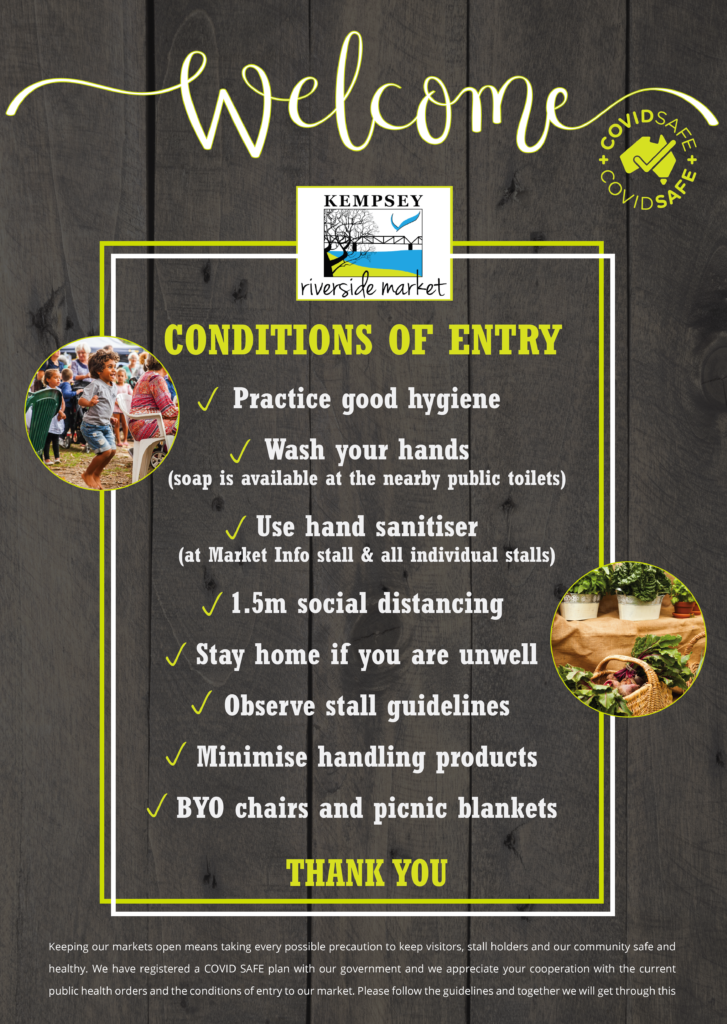 The Kempsey Riverside Market Organising Committee wishes to invite everybody to Kempsey Riverside Market, on the first Saturday of the month between 8am and 1pm, Eden Street, Kempsey on the banks of the beautiful Macleay River. (Currently at Kempsey Showgrounds while COVID restrictions apply)
The Kempsey Riverside Market features produce and products from Kempsey and surrounding districts. It is a place for stall holders to display and sell their wares and an opportunity to browse, shop and mingle in a relaxed atmosphere.
Contact Details
Contact : Belinda
Phone   :  0456 658 979
E-Mail   : info@kempseyriversidemarkets.org.au
Become A Stall Holder
Stallholder information and application