2023 Macleay Valley Business Awards
Mark your calendar... 
2023 KEY AWARDS DATES:
5th April LAUNCH EVENT - 6pm 
5th April ENTRIES OPEN 
22nd May ENTRIES CLOSED
24th May VOTING OPEN
7th June VOTING CLOSED - 5pm
24th June GALA DINNER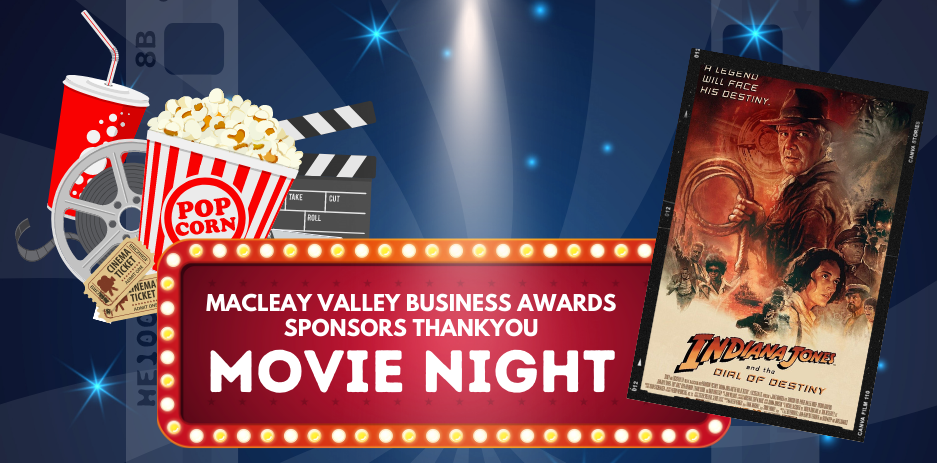 Book your Business Awards Movie Tickets!
ABOUT
Book your seats now for the MVBA Movie Night as we thank your 2023 Business Awards Sponsors for their support of local business!
Bring your your team and get ready for an adventure with Indiana Jones at the Macleay Valley Business Awards Movie Night & Sponsors Thank you Event!
We are off to Majestic Cinemas Kempsey, to enjoy a night of fun with friends and colleagues across the Macleay Valley Business community on Wed 26th July arrival from 5.45pm.
Enjoy a drink on arrival and catch up with faces familiar and new while we enjoy supper and prepare for a wild ride with Indiana Jones and the Dial of Destiny!
DATE
Wednesday 26 July 2023 5:45 PM - 9:00 PM (UTC+10)
LOCATION
Majestic Cinemas Kempsey
Kempsey Plaza 2-14 Belgrave Street, Kempsey NSW 2440
Ticket pricing includes an arrival drink and supper/ refreshments. The screening is complimentary thanks to Majestic Cinemas.
Thank you to our fabulous 2023 Business Awards Partners!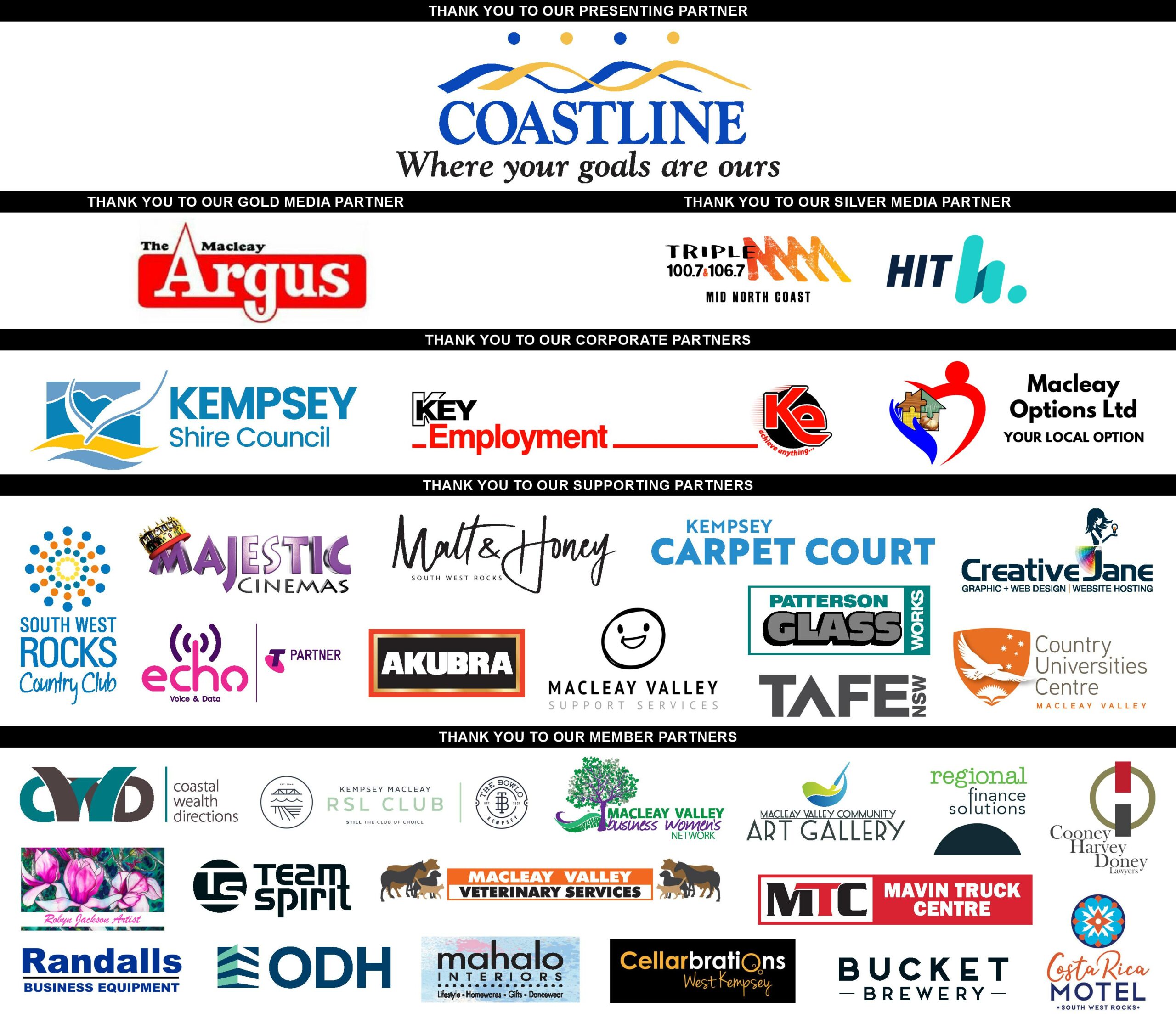 Entries for the 2023 Macleay Valley Business Awards are now OPEN!
Please note we are using a new entry portal this year! Please email us via awards@macleayvalleychamber.com.au if you come across any issues, thankyou!
Do you want to enter the 2023 Macleay Valley Business Awards?
The Macleay Valley Business Awards provides an exceptional opportunity to recognise and reward amazing businesses whose passion, determination and success inspire other businesses and business people. The Awards are about more than just winning. They are the perfect opportunity for entrants to take a fresh look at their operation and have it assessed by industry leaders.
The Macleay Valley Business Chamber celebrates the launch of its sixth year managing the Macleay Valley Business Awards and encourages all local businesses across the region to enter. The 2023 Macleay Valley Business Awards celebrates partnership support from local businesses again in 2023 and continue with our three year partnership with Coastline Credit Union as the Presenting Sponsor.
These awards are designed with 4 key focuses:
Creating an Opportunity for businesses to assess their past performance and plan for the future.
Creating opportunities to promote your business to peers and the broader community.
The winners to represent The Macleay Valley at a Regional and State levels and,
To build business growth, success, awareness and prosperity for the Macleay Valley.
There are two distinct Award Levels available:
1. Local Recognition Awards
2. Excellence Awards Aligned to the NSW Business Chamber Regional and State Awards
Other information:
• Businesses and organisations can enter only ONE category of the Local Recognition Awards.
• Businesses and organisations can enter into more than one category in the Excellence Awards of the NSW Business Chamber
• All Entrants MUST enter the Local Recognition Awards.
• Entrants are strongly encouraged to enter one or more of the NSW Business Chamber Aligned Awards.
1. Eligibility for Entrants
To be eligible to submit an application you should be a Member of a local business chamber or the NSW Business Chamber or be prepared to join the Macleay Valley Business Chamber.
A business must enter ONE of the Local Recognition Award categories and is encourage to enter one or more of the NSW Business Chamber Aligned awards.
Members of the NSW Business Chamber Executive cannot enter into an individual award however, they can enter their business into one of the other categories.
Entries can be submitted online via www.macleayvalleychamber.com.au or find hard copies at any Coastline Credit Union branch in the Macleay region.
2. Eligibility for Voting in Local Recognition Awards
Any individual or business can vote for a Local Recognition Applicant.
There can be only one vote per email address lodged. You can vote for all Entrants if you wish however you can only vote for each entrant once.
3. Judging Process
- A panel of independent business leaders will assess all entries to the Awards utilising a scoring system adopted by the NSW
Business Chamber.
- The judges will be recruited from outside the region.
- All information supplied to the judging panel will remain confidential.
- The decision of the judges will be final.
4. Confidentiality
All information supplied by an Entrant will remain confidential however each Entrant will be asked to supply a 100 word description of their business that be used for promotional purposes by the Chamber. By entering the Awards, you agree to have this information used for promotional purposes.
5. Social Media
The Macleay Valley Business Chamber will undertake a major social media campaign to promote the Awards through Facebook, Instagram and online. By submitting an application you agree that Macleay Valley Business Chamber can use the 100-word biography of your business in our promotion of the event.
6. Communications
By submitting an Awards entry, an entrant understands and agree for the Chamber or our Awards Sponsors may contact entrants in relation to the Awards process or promotions and entrant contact information may be provided to other parties for this purpose.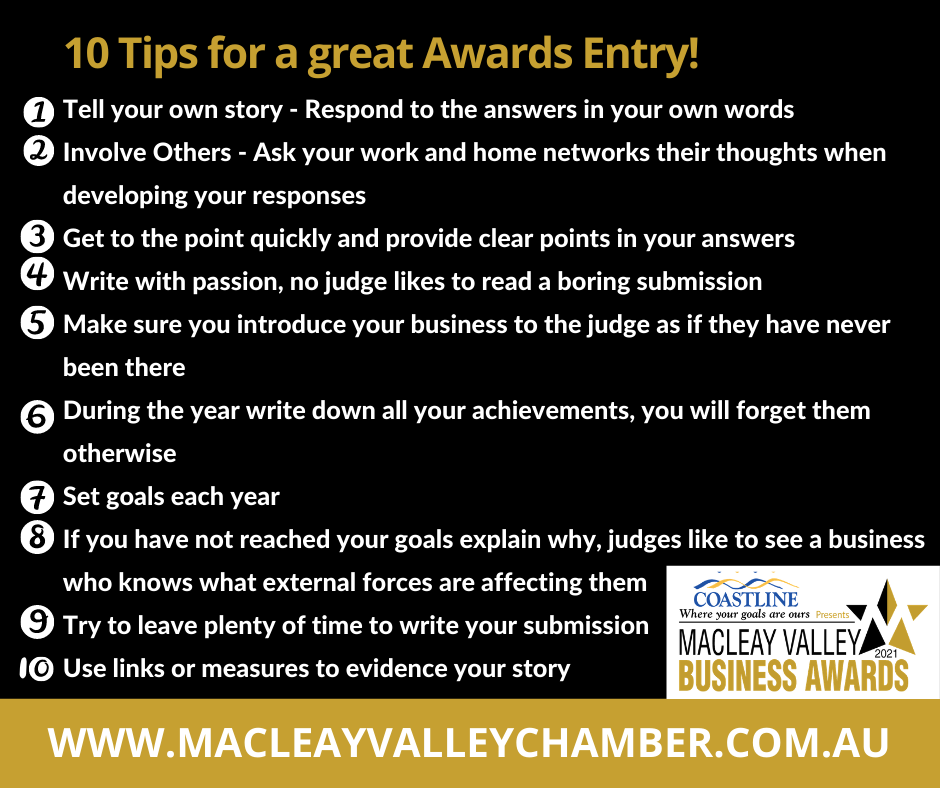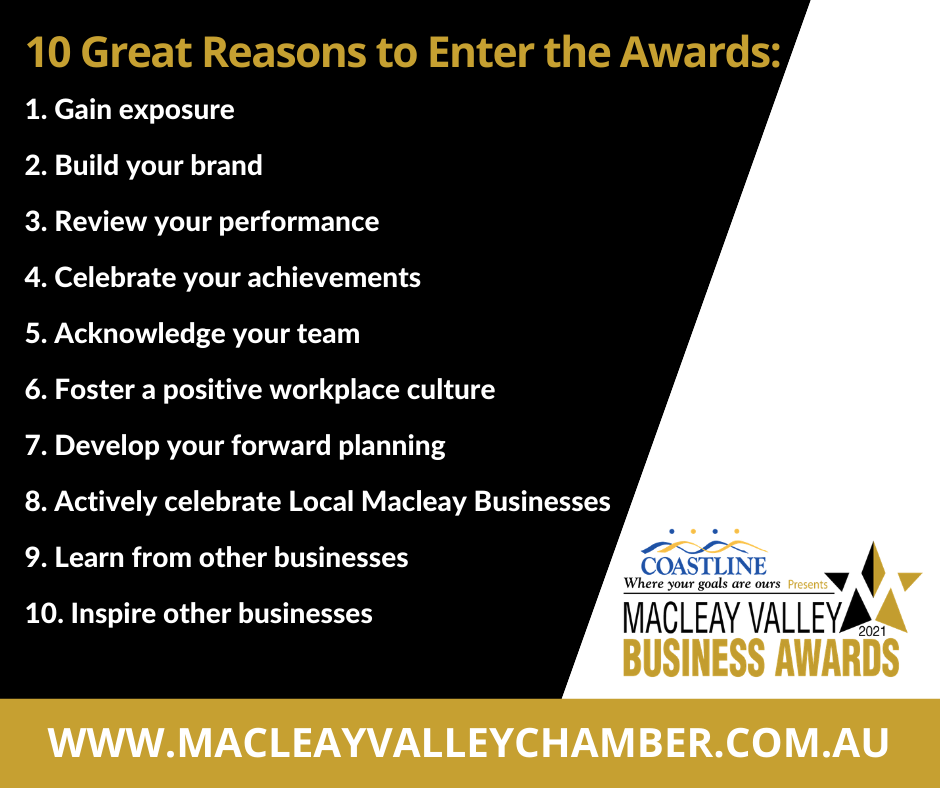 Partner with the Business Awards
The Macleay Valley Business Chamber is pleased to announce the Macleay Valley Business Awards will be launched in April and the Gala Dinner will be held in June 2023. The Business Awards are an important step in gaining recognition through the NSW Business Chamber and to a wider regional and state audience.
The 2023 Macleay Valley Business Awards gives you the chance to promote your business to the region's finest small, medium and large businesses across all sectors of the economy and to strengthen your relationship with the local business community.
The Gala Awards Dinner and Macleay Valley Business Awards attracts an audience of business leaders who are passionate about creating opportunities and harnessing a competitive advantage of building a successful and well recognized business enterprise.
With all sectors of the local business community involved, varying levels of sponsorship and an extensive promotional program, your brand will gain widespread exposure across a range of mediums associated with the Business Awards.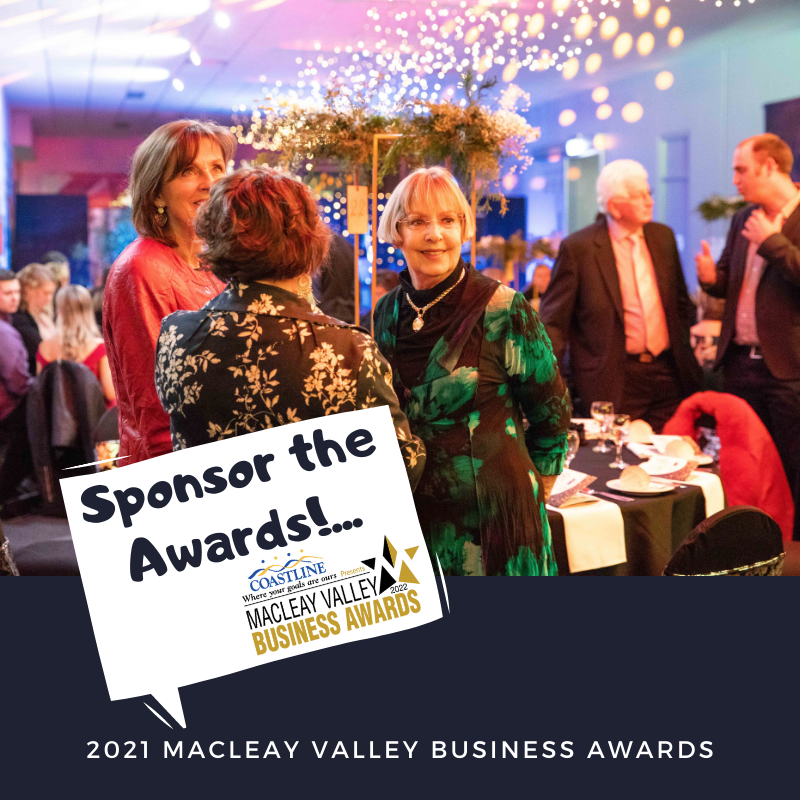 EOI OPEN for Event Suppliers
The Macleay Valley Business Chamber is seeking Expressions of Interest from local businesses to provide services for the 2023 Macleay Valley Business Awards Gala Dinner to be held on Saturday 24th June 2023.
Submissions are open for the Awards Venue, Event Styling, Photography and Entertainment.
Please send your Expression of Interest to awards@macleayvalleychamber.com.au addressed to the Macleay Valley Business Awards Steering Committee. If you have any specific questions, please contact Lisa McPherson on 0422 210 824.
EOI close on the 13th March 2023.