Macleay Valley Business Chamber is a business support organisation that represents, informs and connects the local business community.
The Chamber advocates on behalf of members to help protect business interests in Kempsey and beyond, promote a positive and strong economy and provide a secure future for the Macleay Valley.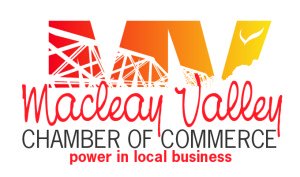 The The Macleay Valley Business Chamber Executive, at its most recent meeting, voted to strongly support Expansion of the Kempsey Airport Business Park.
Read More

The 2017 Macleay Valley Business Awards gives you the chance to promote your business to the region's finest small, medium and large businesses across all sectors of the economy.
Read More