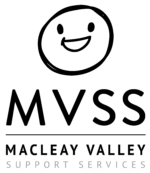 Business Description
Macleay Valley Support Services (MVSS) is an independent, people focused, outcomes-driven organisation that was founded to meet the supports needs of people living with disability in the Macleay Valley and surrounding communities.
MVSS has evolved from a start-up and in less than 3 years of operations, now operating 365 days a year, supporting over 80 clients and employing 70 disability support workers.
MVSS provide 1-to-1 supports for people with disability in their homes and/or supporting them to be involved within their local community to achieve their goals.
MVSS are in the process of pipelining new Specialist Disability accommodation to the Macleay.