Macleay Valley Business Awards are on in 2021!
Mark your calendar... 
2021 KEY AWARDS DATES:
7th April LAUNCH EVENT - 6pm
7th April ENTRIES OPEN - 9am
EXTENDED - 23rd May Midnight ENTRIES CLOSE
24th May VOTING OPEN 
6th June VOTING CLOSES - 5pm
19th June GALA DINNER
Thank you to all the amazing local Macleay businesses that partnered with the Macleay Valley Business Chamber for the 2021 Macleay Valley Business Awards!
We welcome 36 amazing local businesses that are championing the success of the region's business community!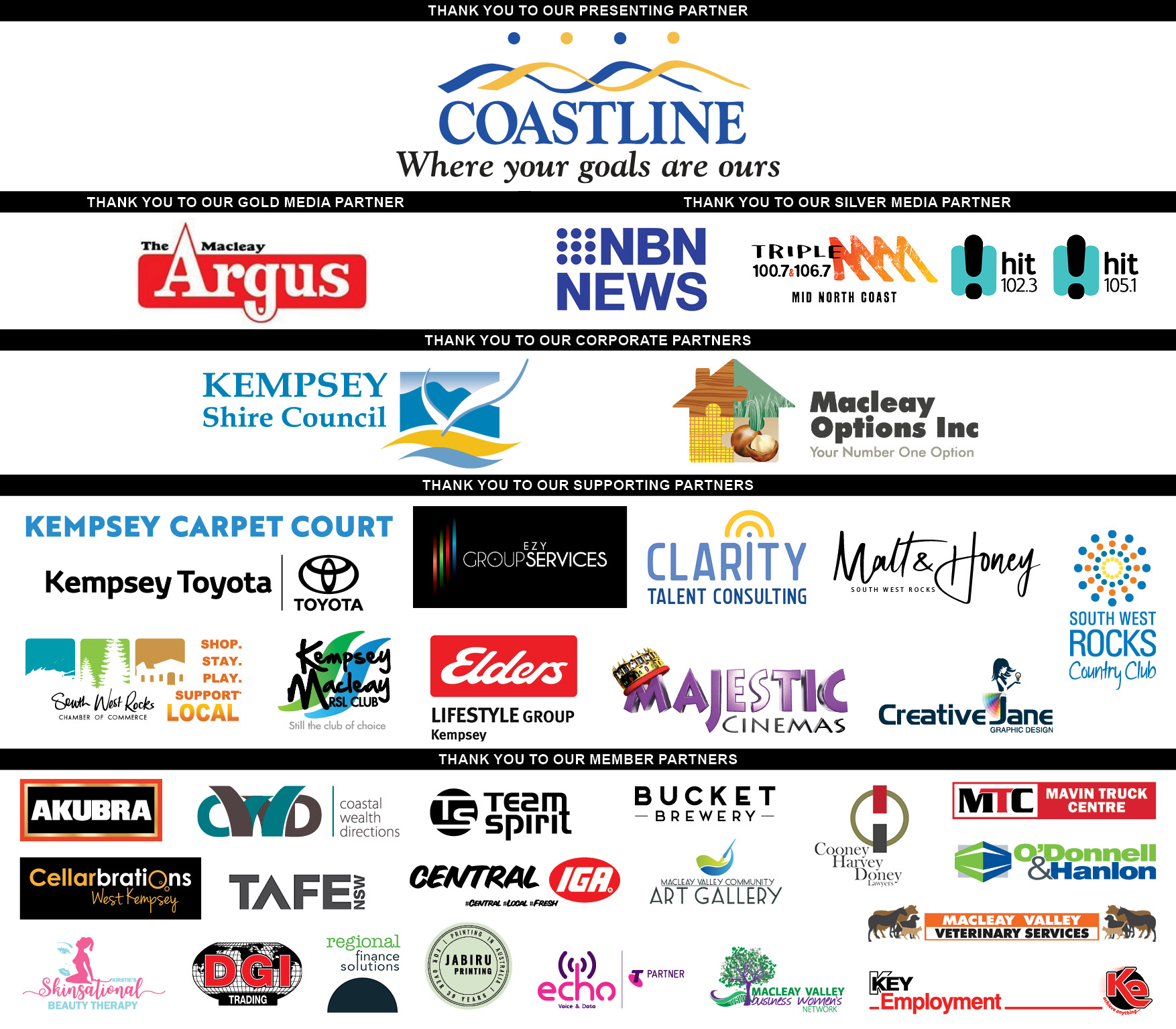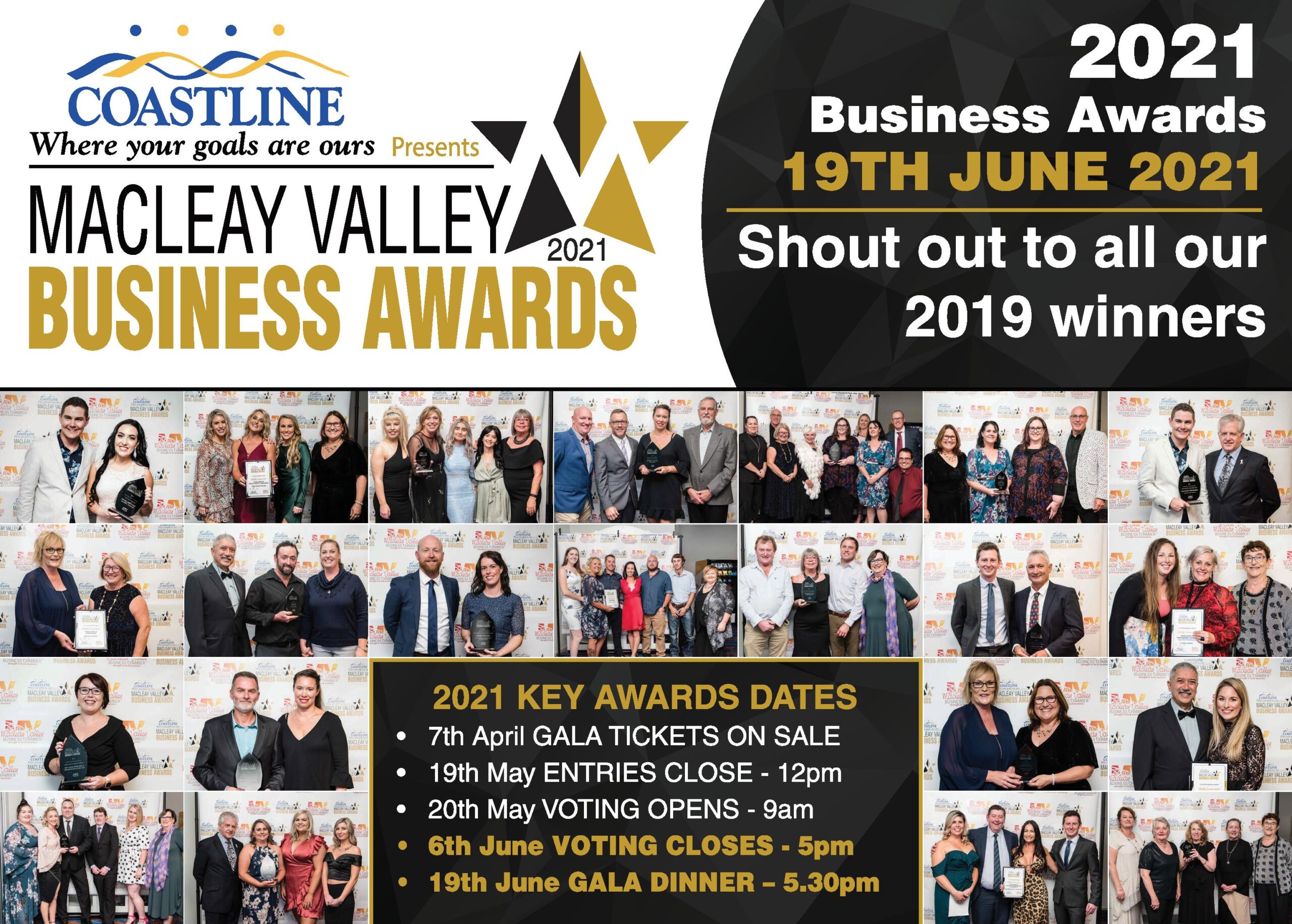 Please note the Awards Expression of Interest and Partnership Opportunities below are now closed for 2021.
Become an Awards Partner!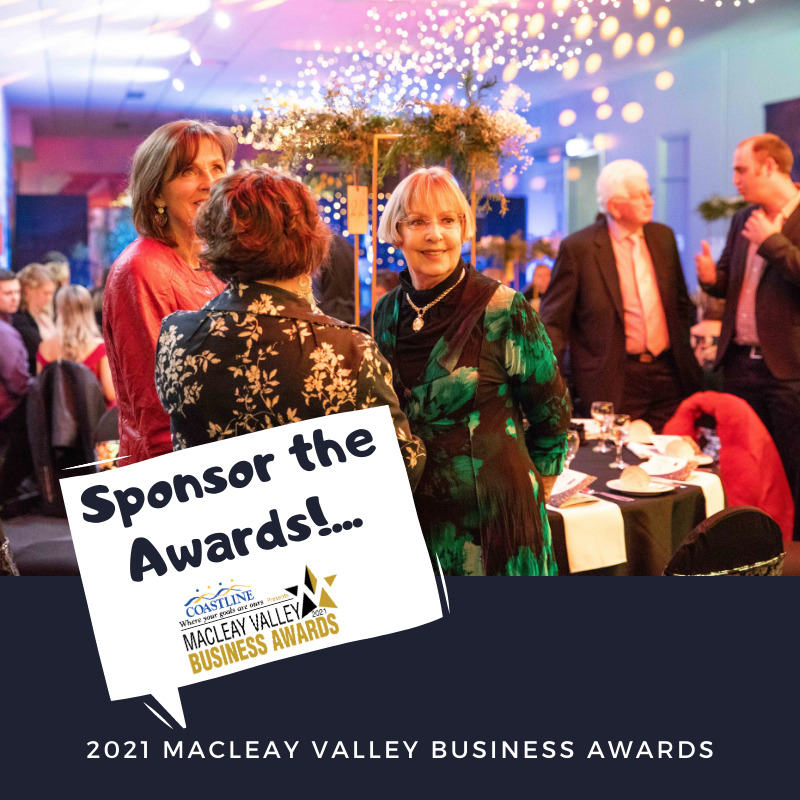 As a Sponsor you are highlighting your organisation as one who cares about the success of our region. Sponsors are recognised as local champions who support the achievements of other local business in the Macleay Valley.
Aligning your organisation with the Macleay Valley Business Awards makes a statement that you are a forward thinking and progressive business and Sponsorship offers numerous benefits to promote this during the Awards process.
Find out more by clicking the "View Sponsoship Prospectus" button below to review the Sponsorship Prospectus. If you have any specific questions, please contact Lachy Townsend on 0419 403 695 or email lachlan.townsend@coastline.com.au
Work with the Awards this year!
Macleay Valley Business Awards Expressions of Interest for the 2021 Awards Venue, Styling, Photography and Entertainment are now open and close 26 March 2021.
It is an exciting time of the year where the Macleay Valley Business Awards preparation is underway. The Awards are an opportunity to celebrate local business and acknowledge the efforts of those striving to progress the region.
Here is your opportunity to get involved behind the scenes!
As part of the preparations we are inviting local business to submit an Expression of Interest to provide services for the Awards Gala Night to be held on Saturday 19th June 2021. There are four different roles to be fulfilled:
Venue
Event Styling
Photography
Entertainment
Click on the button below to download the EOI document which includes information on all roles and requirements.
To respond simply send your Expression of Interest to admin@kempseychamber.com.au addressed to the Macleay Valley Business Awards Steering Committee. If you have any specific questions, please contact Lisa McPherson on 0422 210 824.